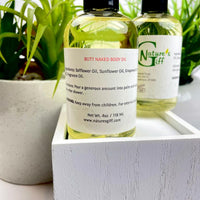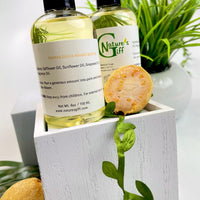 INGREDIENTS (may contain some or all)
Safflower, Almond Oil, Grapeseed Oil, Jojoba Oil, Vitamin E Oil, Fragrance Oil, and Mica.
 Directions: Massage desired amount into skin after a shower.
Almond Oil: Very light and moisturizing, with a neutral scent. Great for dry and sensitive skin. More expensive.
Grapeseed Oil: Light and easily absorbed into the skin, great for oily skin but on the more expensive side.
***Disclaimer: For external use only. Keep out of reach from children. Avoid contact with eyes. I am not a doctor and none of these claims have been evaluated by the FDA. If you are under medical care, pregnant, or have any health problems you may want to talk to your doctor before using natural skincare products. Skincare products may cause allergic reactions, talk to your doctor and know your allergies. If an allergic reaction occurs Nature's Giff can not be liable, use it at your own risk. Please consult your physician or midwife before using products containing essential oils if you are pregnant or nursing. All facts, details & recommendations on my shop are provided for information only and are not intended to diagnose, prescribe or treat any diseases.
Sour Watermelon
This light, sweet, and slightly tart oil has a delicious aroma of sweet and sour mandarin oranges, pineapple, and wild watermelon. It's an oil that evokes a tropical paradise.
Wild Currant Sandalwood
The perfect scent for any occasion, our nourishing hand and body oil is formulated to moisturize, smooth, and soften your skin. Rich in natural antioxidants like Vitamin E this hand-blended essential oil blend is enhanced with essential oils of Clementine, Grapefruit, and Blackberry, as well as Precious Woods, Sandalwood, Vanilla Musk
Nectarine Ginger Burst
A refreshing blend of nectarine and spiced ginger, which makes it a perfect energizing way to start your day. Massage into damp skin for deep nourishment, or smooth on after showering for extra softness.
Honey Almond
A luxurious skin oil that softens and hydrates skin. With a rich, nutty blend of sweet honey and buttery almond, this luxurious skin oil hydrates, softens, and conditions skin with a warm base note of powder.
Lavender Chamomile
Elevate your mood with this uplifting body oil. Scented with notes of lavender,and chamomile, our Body Oil provides dry skin with a cooling effect that is both calming and soothing.
Eucalyptus & Spearmint
Perfect for spa or aromatherapy, this blend of oils is the aromatic combination of spearmint, eucalyptus, lavender, and lemon. This body oil is the invigorating herbal blend of eucalyptus and spearmint with fresh citrus lemon, lavender flowers, and a hint of sage.
Papaya Guava Mango
Relax, refresh and recharge with the serene yet uplifting scent of luscious tropical mango, juicy papaya and creamy island florals.
Directions: Massage desired amount into skin after a shower.
Safflower, Almond Oil, Grapeseed Oil, Jojoba Oil, Vitamin E Oil, and Fragrance Oil,