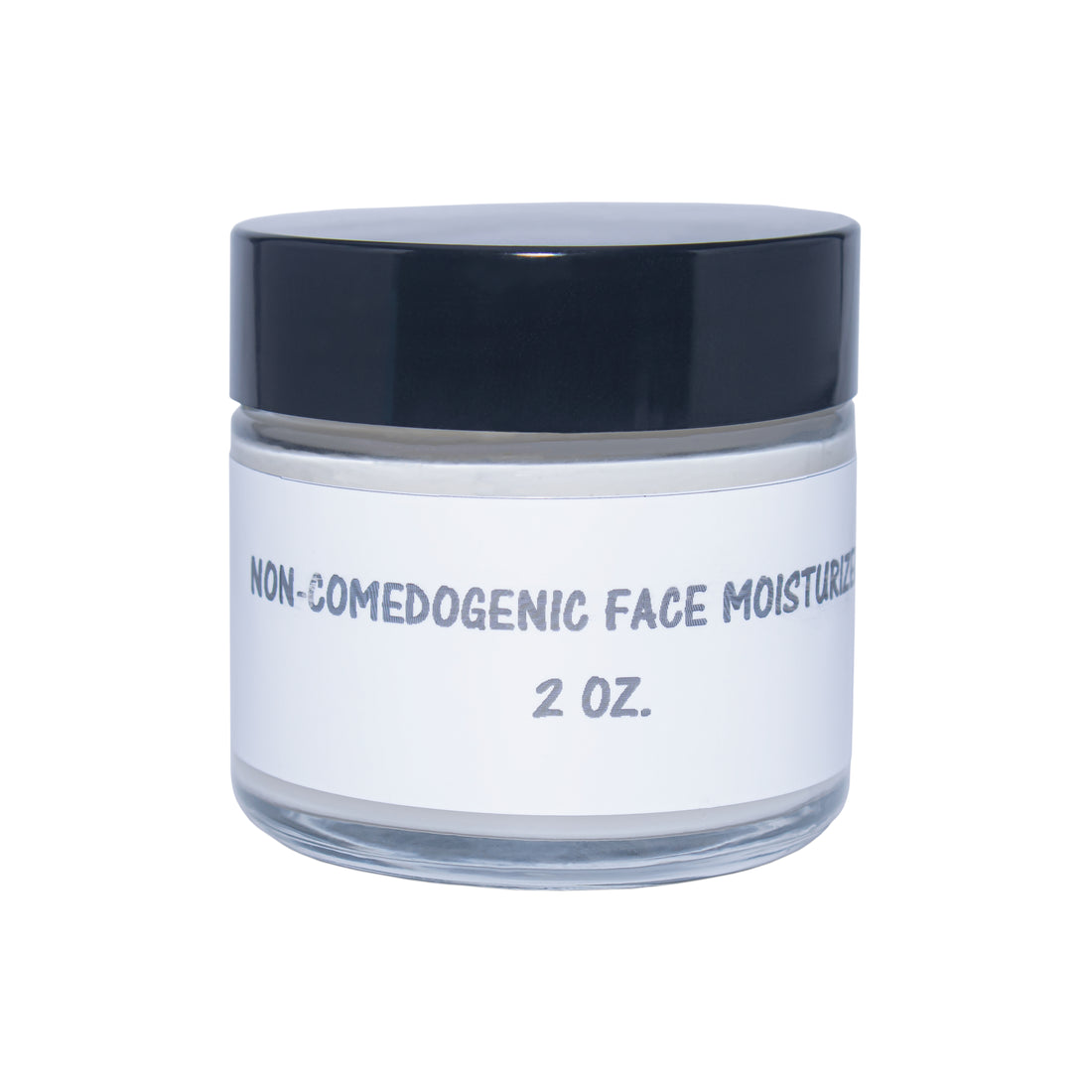 Non-comedogenic Face Moisturizer (For sensitive and acne prone skin)
Ingredients: Distilled Water, Aloe Vera Concentrate, Glycerin, Shea Butter, Olivem 1000 Emulsifying Wax, Hyaluronic Acid Gel, Green Tea Extract,  and Optitphen.
This face moisturizer is non-comedogenic, anti-inflammatory, and oil-free, designed specifically with acne-prone, sensitive skin types in mind! I've formulated this recipe to reduce the likelihood of flare-ups, but please do remember to patch test any new recipe to check for ingredient sensitivity and allergies.
Non-comedogenic.
If you're concerned that slathering oil on your face may cause breakouts, don't worry, Dr. Chimento says: "Its composition is very similar to the sebum, or oil, naturally produced in our skin, so it will not clog your pores."
Directions: Use the desired amount and gently massage it into wet skin. Rinse off and pat skin dry.
When you first touch this moisturizer you will notice its lightweight consistency. It easily absorbs into the skin without leaving any greasy residue behind. Your skin will feel silky smooth once your moisturizer is applied. As you apply your moisturizer it is best to use upward circular motions to help stimulate blood circulation and new cell generation. Use this time to give yourself a short face massage. Just be sure to avoid dragging your skin downward. Use this moisturizer in the morning and night after cleansing and toning the skin.

A face moisturizer is a must for every skin type. The face sheds cells more rapidly than any other part of the body and therefore it needs moisture to repair itself. After showering our skin is stripped of all its moisture and oils leaving it parched and dry. Leaving a moisturizer out of your skincare routine could lead to dull, dry, irritated skin, or even acne. Using a moisturizer daily will assure a healthier, moisturized, brighter, and youthful complexion.

*Always do a patch test on your hand or arm before applying a new product, especially if you have sensitive skin.
Shelf life - 9 Months

Your face wash will come packaged in a clear glass bottle with a white pump.

Made in New York & in small batches to ensure freshness and quality.

Instagram @ Naturesgiff

***Disclaimer: For external use only. Keep out of reach from children. Avoid contact with eyes. I am not a doctor and none of these claims have been evaluated by the FDA. If you are under medical care, pregnant, or have any health problems you may want to talk to your doctor before using natural skincare products. Skincare products may cause allergic reactions, talk to your doctor and know your allergies. If an allergic reaction occurs Naturesgiff can not be liable, use it at your own risk. Please consult your physician or midwife before using products containing essential oils if you are pregnant or nursing. All facts, details & recommendations on my shop are provided for information only and are not intended to diagnose, prescribe or treat any diseases.