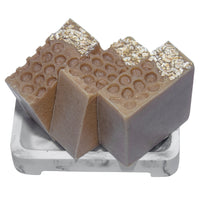 This luxurious, simply delicious soap is powerfully gentle. Oatmeal is a skin softener (emollient), which makes it perfect for sensitive and dry skin. A powerful cleanser, oats also contain saponins, which is a plant extract that foams like soap and removes dirt from the skin's surface. To put its power into perspective, saponin gives witch hazel its cleansing property. We paired our oats with creamy milk and warm honey to provide moisture and hydration to your skin. Both the honey and oats open your pores for an added boost. A natural humectant, honey will seal in moisture while naturally, antibacterial oatmeal helps prevent breakouts and acne distress.
Apply the soap to your body, washcloth, loafer lather then, and rinse off.
Caution: For external use only.
ONE of our bars of soaps approximately weighs 5.5 oz. Artisan soaps do continue to lose weight over time. To extend the life of your soaps allow them to dry between uses. Use a soap dish to allow for ventilation.

All our soaps are handcrafted in small batches with sustainable ingredients to provide the least impact on our environment. Please note that due to the handcrafted nature of all our soaps. Colors, shades, and swirl styles may vary slightly. Each loaf and bar are unique.
Ingredients: Coconut Oil, Olive Oil, Palm Oil, Castor Oil, Organic Shea Butter, Canola Oil, Kaolin Clay, Water, Sodium Hydroxide (Lye), and FD&C and or Mica colorants.

For external use ONLY. Avoid direct contact with eyes and mouth. Discontinue use if irritation occurs.